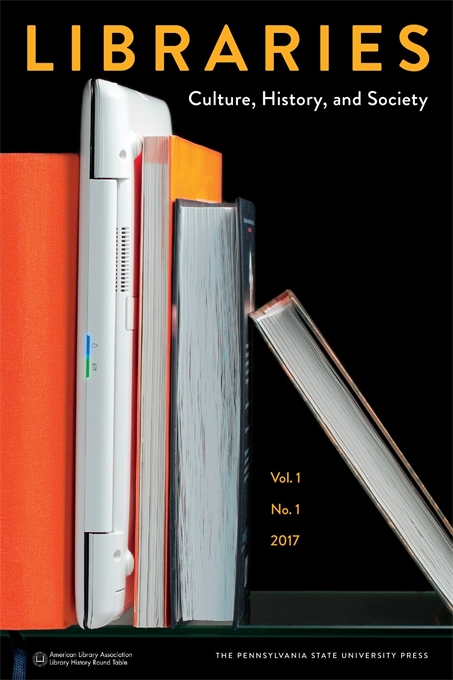 Libraries: Culture, History, and Society is the official peer-reviewed journal of the Library History Round Table.

The only journal in the United States devoted to library history, LCHS positions library history as its own field of scholarship, while promoting innovative cross-disciplinary research on libraries' relationships with their unique environments
Now accepting
submissions
!  LCHS welcomes submissions of research papers and evaluative reviews of books that complement our journal's mission to situate libraries within their broader historical context.  Details on submission may be found at:
http://www.psupress.org/Journals/jnls_LCHS.html
Tables of Contents
v1(1), Spring 2017
v.1(2), Fall 2017
v.2.1, Spring 2018
v. 2.2, Fall 2018v1(1), Spring 2017.
Freely available online via JSTOR
Wayne A. Wiegand
Steven A. Knowlton
Nicole A. Cooke
Christine Pawley
Debra Gold Hansen
Richard James Cox
V.1(2), Fall 2017 
Eliza Giffard and Her Books, 1797–2015: The Legacies of a Regency Library 
Charlotte Priddle
Libraries and Publisher Price Control: The Net Price System (1901–1914) and Contemporary E-book Pricing
Mei Zhang and Jonathan Senchyne
Libraries Are the Homes of Books: Whiteness in the Construction of School Libraries
Suzanne M. Stauffer
Conflicting Philosophies: Two University Librarians and a Presidential 
Meg Miner
Reform and Revolution: Juvenile Detention Center Libraries in the 1970s
Jeanie Austin
Book Review - Reading Publics: New York City's Public Libraries, 1754–1911 by Glynn, Tom. Reviewed by: Anthony Bernier
v.2.1, Spring 2018
The Library of Thomas B. Catron and the Transformation of New Mexico
Michael L. Taylor
"It is simply out of the question to eliminate the colorline": The Development of Black Library Service in Atlanta and the Integration of the Atlanta Public Library
Dallas Hanbury
"The Spirit of the Builder": The Library Career of Julia Carson Stockett
Lisa R. Lindell
 
One Staff, Two Branches: The Queens Borough Public Library and New York City's Fiscal Crisis of the 1970s
Jeffrey A. Kroessler
Book Reviews
Ancient Libraries and Renaissance Humanism: The De Bibliothecis of Justus Lipsius by Hendrickson, Thomas
Review by: Patrick M. Valentine
Libraries of Light: British Public Library Design in the Long 1960s by Black, Alistar
Review by: Anthony Bernier
What Middletown Read: Print Culture in an American Small City by Felsenstein, Frank, James J. Connolly
Review by: Calista Williams
v. 2.2, Fall 2018
 
The "Spirit of the Fatherland": German-American Culture and Community in the Library and Archive of the German Society of Pennsylvania, ca. 1887–1920
Alexander Lawrence Ames
"Well Selected and Well Bound": The Antebellum American Home Library
David Purificato
Libraries in the Jewish Settlements in Argentina
Irene Münster
Taking Up the Work: The Library Apprentices of Redondo Beach, California, 1909–1924
Lisa Blank
One Hundred Years of Libraries and the Library Profession in Catalonia
Alex Cosials, Mònica Baró and Teresa Mañà